The Top 10 Graphic Design Software Tools: Empower Your Creative Vision
Table of Contents
Graphic Design Software. You might have heard of it if you are in the dynamic world of visual communication, graphic design is an essential skill that allows individuals and businesses to convey messages, evoke emotions, and create memorable experiences.
To bring your creative vision to life, having access to the right tools is crucial. That's why we have curated a comprehensive guide to introduce you to the top 10 graphic design software tools that will empower your creative endeavors and help you achieve stunning results.
These software tools have been carefully selected based on their robust features, user-friendly interfaces, and industry recognition. Whether you are a professional designer, an aspiring artist, or someone looking to enhance their creative projects, these tools will provide you with a powerful toolkit to unleash your artistic potential.
In this guide, we will explore each graphic design software tool in detail, highlighting their unique strengths, functionalities, and the creative possibilities they offer. From industry-standard software used by professionals to accessible tools suitable for beginners, you will find a range of options to suit your specific needs and preferences.
By mastering these graphic design software tools, you will gain the ability to create stunning visual assets, design captivating logos, craft engaging illustrations, and bring your creative ideas to life. Whether you're designing for print, web, or multimedia, these software tools will enable you to push the boundaries of your creativity and unlock new possibilities.
Whether you are new to graphic design or looking to expand your skillset, this guide will serve as a valuable resource to navigate the landscape of graphic design software tools.
So, let's dive into the world of graphic design and discover the top 10 software tools that will empower your creative vision and revolutionize the way you approach design. Get ready to unlock your creative potential and embark on an inspiring journey of visual expression. (Click Here to learn more about graphic design and digital product creation! 🙂
1. Adobe Express – Best Graphic Design Software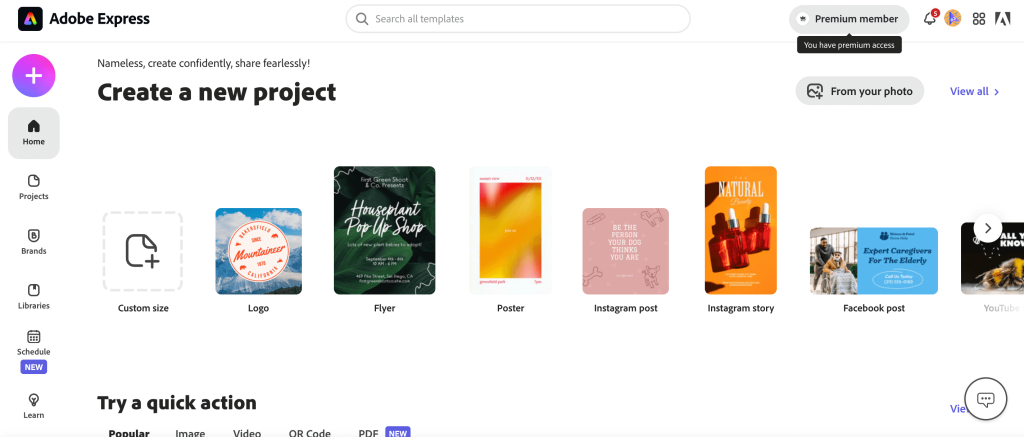 Adobe Express is a web and mobile app designed to help people quickly create social media posts and ads, flyers, videos and photos for free use with access to Adobe Stock photo/video features.
Adobe Express makes getting started easy – no installation of additional software or upgrading of graphics cards is required!
It's easy to use
Adobe has created Adobe Express as a valuable resource to assist non-designers in producing professional-looking visuals without needing a designer.
Its easy interface and wide variety of templates make this tool particularly valuable; furthermore, text and image adjustments tools are also provided for optimal use on desktop as well as mobile devices – perfect for small businesses that rely on visuals for social media posts and other platforms.
Adobe Express is a web-based design application that enables users to upload and edit photos before creating designs for various purposes, such as business cards, flyers, posters and social media posts. Features of Adobe express include its library of fonts and graphics as well as quick image fix function as well as document creation/printing capability and integration with third-party services such as Google Drive and Dropbox.
Adobe Express was specifically created with ease-of-use in mind and offers a user-friendly learning curve that's suitable for professionals as well as novices – perfect for small businesses! Adobe also supports all major file formats including PDF. As more features are added to Adobe Express to further increase functionality and user friendliness.
Adobe Express stands out among photo editing programs by offering a range of tools, such as background removal and cropping. Furthermore, this software can adjust brightness, contrast, saturation and add custom effects/filters to images.
Adobe Express is fully compatible with other Adobe programs such as Photoshop and Illustrator, enabling it to save projects for later. Furthermore, you can personalize the workspace to display only those tools and panels important to you while taking advantage of Adobe Sensei – Adobe's artificial intelligence engine – in selecting colors for your projects.
Adobe offers its software both as a stand-alone application or part of their Creative Cloud All Apps plan, with the latter providing more tools and control over your creations. In addition, they occasionally run discounts that make purchasing this plan worthwhile for some.
It's free
Adobe Express is an intuitive and free design tool for anyone who wishes to create visually pleasing material, including social media posts, posters/flyers/presentations slides/videos etc. With hundreds of professionally designed templates to choose from and customize colors/fonts/layouts further; Adobe Express features several helpful tools which make creating what you need easier than ever!
Adobe Express stands apart from its more complex siblings Adobe Photoshop and Illustrator by being user-friendly and featuring an easy drag-and-drop interface for content creation and editing, mobile compatibility, templates for mobile phones and offering mobile device access. Unfortunately, though it lacks some advanced features of its more expensive cousins such as vector editing tools.
Adobe Stock is available on iOS and macOS with a paid subscription option that grants access to royalty-free photos, fonts, and effects from Adobe's extensive library. Adobe Stock makes creating professional materials easy without spending the time or money learning complex software like Photoshop and Illustrator.
Adobe Express app can be found for free on the App Store, or you can subscribe to Creative Cloud All Apps plan at just $10/month and enjoy three months to decide if this subscription works for you.
Adobe Express boasts an elegant space grey and blue finish reminiscent of other Adobe programs, yet its user-friendly interface makes it accessible for users of all skill levels. While Adobe Express may share some similarities with Canva – an advanced photo editing program – its intuitive user experience is great for beginners looking to edit designs with multiple team members at once. Plus, with access to powerful filters and adjustments tools at hand, even amateur images can quickly turn into professional masterpieces!
It's mobile-friendly
Adobe Express makes using mobile devices an effective way of creating and editing graphics, PDFs, photos and videos – perfect for teams short on time or expertise who require professional-looking branded visuals quickly and effortlessly. It features a user-friendly interface which can be accessed anywhere!
Adobe Express is a free tool designed to create professional-looking graphic designs. With access to numerous templates and graphics, users can quickly customize them with their own colors and logos for an individualized design experience. In addition, this program features video and animation tools which enable animated social media posts. Adobe Express can be found both for iOS and Android devices.
Adobe Express may not be the ideal full-featured photo editor, but it provides an affordable alternative. With an intuitive user-friendly interface and drag-and-drop functionality, this affordable option makes for simple photo editing. Plus, projects can easily be saved and shared!
Adobe Sensei artificial intelligence technology powers both Adobe Creative Cloud and Adobe Express, helping users to design better. It helps find colors that work together while automatically adjusting them for a more balanced appearance, offering tutorials and guides for use of these tools.
Adobe Express provides multiple subscription plans tailored to fit the individual's needs. A free plan grants access to Adobe Stock and its collection of templates; however, unlimited use of Adobe Sensei or social media scheduling services aren't included. Alternatively, upgrade to Premium for more extensive libraries of images and features as well as access to Adobe Sensei at no additional charge.
Adobe Express boasts many of the same features found in other Adobe products, but is much simpler and quicker to learn and use. Its intuitive interface makes Adobe Express an excellent option for beginners or anyone who simply needs something straightforward and quick. Plus, Adobe Express comes with a 30-day free trial period – longer than many other Adobe trial periods!
It's powerful
Adobe Express is an intuitive web-based graphic design tool. With customizable templates and features to help create social media posts, logos, video projects and more – as well as accessing royalty-free images and fonts – this resource makes graphic design accessible for anyone. You can access them all using a simple drag-and-drop interface.
Adobe Express now features enhanced collaboration and integration with Creative Cloud apps, more tools for removing backgrounds and creating animations, and an Animate from Audio feature which enables users to synchronize characters created within Express with recorded dialogue. Adobe's goal with this update is to make Express an indispensable companion of its flagship applications.
Adobe has an outstanding track record with their products, and it's clear that Adobe developers put an extraordinary amount of thought and consideration into making their software intuitive and useful for everyday users. Their research and development team ensure that Adobe customers always receive the latest innovations in design and technology – Adobe Express being no exception with features such as its color selection system that uses various criteria to select appropriate hues for any given project.
Adobe is adding another feature to Adobe Express: the ability for users to create and edit PDF documents, saving users both time and effort in downloading separate files for different uses. Adobe is testing this capability with several partners such as Google and Amazon; it is sure to prove valuable for businesses that wish to utilize internal systems rather than access to all the Adobe software suite.
Adobe Express is an ideal way for those on a tight deadline looking to produce visual content quickly and cost-effectively. The platform's user-friendly design offers numerous customizable templates that can help match a brand's image seamlessly, and makes an affordable alternative when budget or hardware limitations prevent full use of Adobe software suite.
2. Canva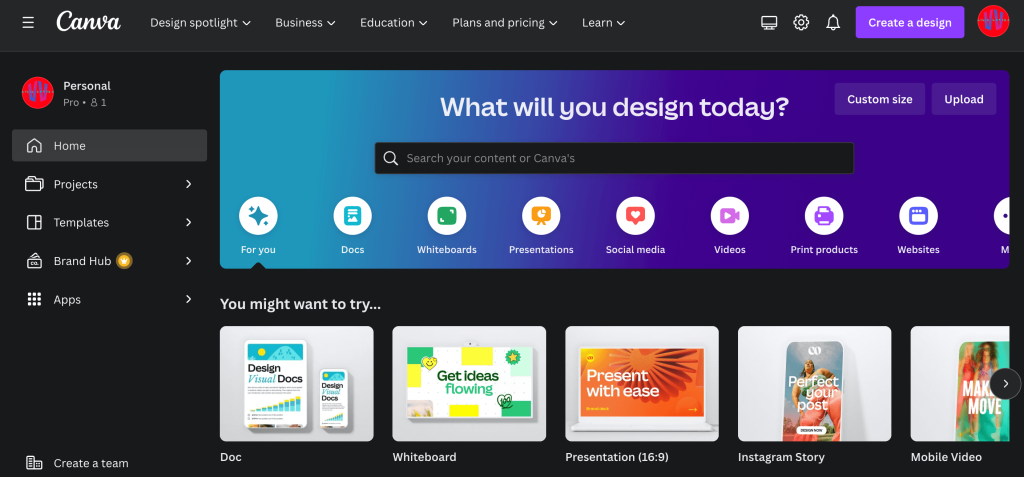 Canva is an intuitive design tool for quickly creating engaging social media posts on desktop and mobile devices. With access to hundreds of templates tailored specifically to different kinds of posts, its ease-of-use is unparalleled.
Free for both users and businesses alike, it provides 5GB of storage with team features allowing real-time collaboration among team members.
It's easy to use
Canva is an accessible design tool with a wealth of templates available for social media posts, presentations and video clips. Plus it features hundreds of font styles and graphics you can access for free – not to mention an impressive daily Design School feature with tutorials in topics like typography, photo editing and brand consistency!
Start designing with Canva or browse its Design Collections, Trending Near You and New on Canva sections to find designs to meet any need imaginable. Designs are organized into buckets making it easy to locate an appropriate template; upload and use photos in designs of your own making; you can even upload and use personal images in designs! Canva offers templates specifically for events like Mother's Day and World Environment Day as well.
As soon as you click on a design element, options on the right-side of your screen allow you to edit that component. From changing its colors, shapes, sizes, font styles and backgrounds to applying effects to any object on your design – plus animating text by making it square or circular and even adding images or logos!
Canva offers tools and resources that make its use an indispensable addition to the marketing design process for teams working remotely, especially those working from remote locations. Teams working on designs collaboratively in real time can share and collaborate in real-time while staying organized – canva allows users to move files easily between folders while giving view-only links for easier sharing and collaboration.
Canva can be used in classrooms as an effective learning tool, whether that means substituting for traditional paper drawings, augmenting student projects with Canva posters about air pollution instead of drawing it themselves on paper, facilitating collaboration and providing feedback between teacher and pupils, or serving as an essential collaboration platform.
Canva stands out as an outstanding mobile-friendly tool. With its simple user interface and Magic Resize feature – which instantly reformats designs to various platforms – creating custom wallpapers is made simple. Plus, existing designs can easily be repurposed.
It's free
Canva is a graphic design tool that empowers users to quickly create visual materials without needing extensive graphic design experience. With access to templates, royalty-free images and design tools such as Canva's library of templates and royalty-free photos for social media posts, videos, presentations slides posters as well as customizable fonts graphics photos used for original designs; users don't need extensive design expertise in order to use this application effectively. Plus its free trial period gives way to paid subscription options!
Canva has some limitations to its functionality, but they should not be considered dealbreakers. While the platform lacks video creation features like those found in dedicated applications like VideoStudio, it makes an excellent option for simple projects and web building – including building simple websites without providing access to more advanced ecommerce features than what would be found with site builders like Squarespace.
Canva has the limitation of only being able to export to certain file formats. While this can be problematic if you need to share your project digitally and require using specific file formats, this issue can be solved by embedding a small piece of code onto websites which displays your Canva project but automatically reflects any updates made within Canva software.
Canva's user interface is well designed and intuitive, giving you access to all of the basic tools for designing marketing materials for free. Plus, with iOS and Android mobile applications for Canva available for both devices – as well as optimized Chromebook versions that support use even on lower-end machines – taking your designs with you is convenient and portable!
If you need additional assistance, Canva provides an exhaustive getting started guide and FAQ page that addresses common queries and issues. In addition, its Customer Happiness Team can also be reached directly for further support.
Canva Pro is an excellent solution for individuals and teams who regularly need to create marketing materials. Its team feature allows multiple people to collaborate simultaneously on one project at once, saving both time and resources. Furthermore, Canva offers advanced features like branding tools that make creating consistent materials much simpler.
It's easy to share
Canva makes sharing designs easy for social media and collaborative projects alike. From accessing templates that you can tailor to fit your needs to uploading images and videos of your own – everything can be found conveniently centralized here!
Canva's collaboration features enable teams to work in real time and avoid costly mistakes when taking on large projects. Its user-friendly platform reflects changes instantly, cutting down on revisions and unnecessary meetings while helping businesses save money and boost productivity.
Canva allows you to collaborate in real time with your team while also tracking who has seen and edited your designs. Simply use the Share option and click "Track Activity", which allows you to see all changes made as well as how often they were viewed.
To share your design, simply press the "Share" button and enter an email address of whomever you wish to share it with. You may also include an accompanying message when sharing on platforms such as Facebook, Twitter or Pinterest. When sharing is complete, just click on one of their respective icons (Facebook, Twitter or Pinterest) for completion of sharing process.
Once you have the link to your design, you have two ways of sharing it: as an editable template or view-only. By sharing an editable template design, people who click the link can copy your work directly on Canva and edit it – an ideal way to gain feedback or ensure your work meets client specifications.
Canva for Teams and Canva Pro allows users to share specific design folders among team members. For instance, sharing folders of logo templates or pitch decks ensures everyone in your team has easy access to relevant files – which makes content creation much faster!
It's easy​​​​​ to customize
Canva provides several templates that will make creating an infographic for your blog easy and professional looking. Each template offers different features, such as title/subtitle combinations that help clarify information; numbered points guide viewers through data; customizable colors/fonts to suit any style; as well as importing your own images or using Canva's gallery of images.
Once you create a design you like, Canva allows you to save it as a file and reuse it later. By default, files are saved automatically but manually select folders if you prefer. Furthermore, Canva enables teams to collaborate real time while sharing designs among themselves.
Canva offers a vast array of features, such as its drag-and-drop interface and infinite library of templates for every type of design project. Additionally, its design tools let you easily edit everything from text and images to logos, icons, animations, and animations – in addition to supporting many file formats such as JPG and PDF formats. Furthermore, its user-friendly toolbar makes Canva simple to use and reacts as you change your design.
Canva allows users to easily import photos, videos and audio into its system as well as stock assets available within its library. Users can also upload custom fonts they've made themselves and can choose from an extensive list of fonts available free. Moreover, Canva includes an advanced 'branded color palettes' feature, which enables instantaneous transformation of any design into something matching your branding instantly.
Canva not only provides an extensive library of templates, but it also makes custom printed products easy. This feature allows you to showcase your design skills while simultaneously marketing your business; currently 43 different print items such as yard signs and retractable banners are offered as printed options through Canva.
Canva also provides a mobile application, making design work on-the-go possible. Compatible with iOS and Android devices, its features mirror those found in its desktop counterpart. To begin your design journey on mobile, simply enter your phone number to receive a download link – once installed you can start creating stunning designs with just a few clicks!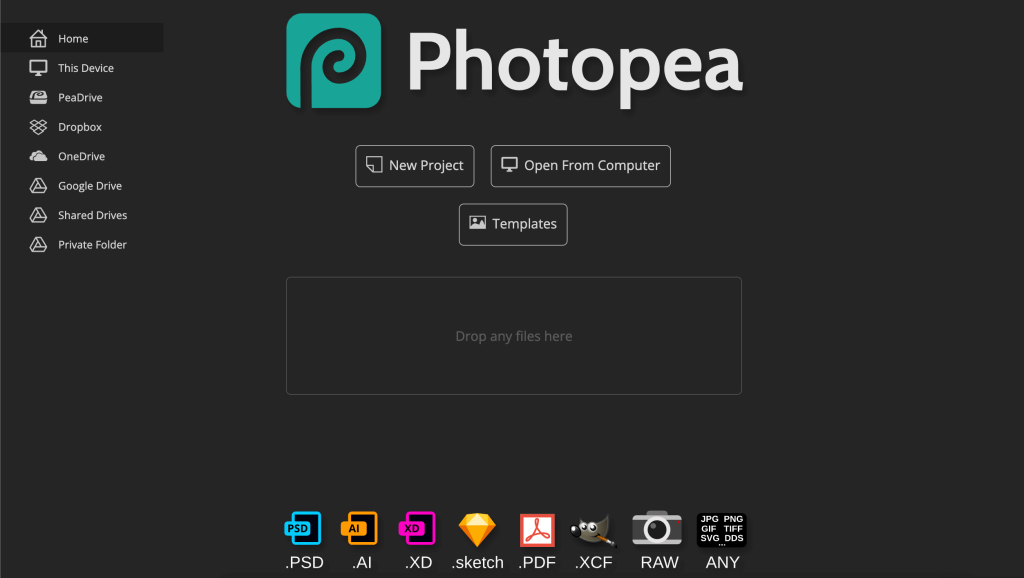 There are so many design platforms to choose from that it can be overwhelming to make a selection. Photopea is an online platform designed for desktops, mobile devices and tablets that supports an assortment of image formats.
This free web program enables users to edit photos without installing any software, making editing possible from within any web browser without installing anything at all. The intuitive design mimics Adobe Photoshop for a smooth experience that's simple to learn and use; plus there are templates to quickly build projects.
It's free
Photopea is an online image editing software with an array of tools and features, perfect for both beginners and freelancers. Its user-friendly interface makes Photopea an attractive option for beginners as well as freelancers, while its many features such as layers, masks, filters, vector graphics selection tools cropping resizing text tools can all be found here. In addition, Photopea supports multiple file formats.
Available across Windows Mac OSX Linux it can also be accessed directly via mobile phones web browser or downloaded directly onto desktops allowing desktops for desktop editing experiences when needed.
Photopea is designed with an intuitive design reminiscent of Photoshop's dashboard, making it easy and accessible for users who already use other photo editing programs. Users can perform basic edits such as adjusting brightness and contrast while adding special effects and creating unique composite images with it.
Software to help photographers make professional-looking images is free to download and available across major platforms like Windows, Mac and Linux. Affinity Photo offers an ideal alternative to Adobe Photoshop which requires an expensive subscription plan; yet is simple and user-friendly enough that anyone can use it easily. A perfect option for photographers looking to create professional-looking photographs.
Photopea is an impressive graphics editor with many capabilities; however, there are some downsides. First and foremost, Photopea relies on internet access for functionality; therefore it may experience limitations if internet connections become slow or unavailable. Furthermore, Photopea lacks some advanced features found in other graphics editors, such as in-depth color correction and brush customization capabilities.
Photopea is not suitable for high-resolution images as its color palette only supports 8-bits, nor does it offer cloud storage; users must instead save files locally on their computers. Despite these restrictions, Photopea remains an excellent lightweight alternative to Photoshop for beginner designers looking for reliable support.
It's easy to use
Photopea is an intuitive web-based image editor equipped with powerful tools for manipulating photos and graphics, offering both raster and vector file support (including JPEG and PNG formats) as well as common formats like JPEG and PNG. Users can use Photopea for everything from complex tasks such as selecting an image from its background to simple ones like changing its size; its interface resembles that of Adobe Photoshop making the experience familiar for creators who have worked with it before.
Photopex offers many features at an accessible price point, making it suitable for new users as well as more advanced editors who require additional features or who cannot connect via WiFi. Unfortunately, however, Photopea doesn't support high-resolution files which might limit its potential.
Easy use makes this program ideal for beginners and freelancers looking for cost-cutting alternatives to professional software such as Photoshop. Its user experience mirrors that of Photoshop, while there are even keyboard shortcuts to make life even simpler. Though it has some minor flaws, it remains an outstanding choice for creating graphics and images.
This program doesn't require downloading and lives directly in your browser, meaning it won't tax your system. You can either access it via its regular web interface, or install as an app through browsers such as Google Chrome and Microsoft Edge using Chromium technology. While basic access to this tool is free, upgrading to premium will remove ads from your screen and unlock additional features.
Photopea offers an incredible variety of tools and filters that allow users to craft unique images. Additionally, there's also an isolated part feature allowing for easier selections within pictures. Finally, Photopea offers unique editing capabilities like blurring an image with noise effects as well as adding layer adjustments that enhance its appearance – perfect for creative expression!
It's compatible with Photoshop
Photoshop is an impressive program with numerous features; however, there can be drawbacks. Primarily, its memory requirements and processing power requirements make it hard for older computers or laptops to utilize the program effectively. Furthermore, its subscription fees of $20 or more monthly make it prohibitively costly for users on tight budgets.
Photopea is an online photo editor that features many of the same capabilities as Photoshop, including layers and smart objects. Additionally, it supports both raster and vector formats and lets you save files in PSD, AI, XCF, JPG PNG SVG GIF formats for saving. Furthermore, advanced tools include brushes filters selections allowing for creation or modification of layers as well as brushes filters selections tools that make photo manipulation simple.
While Photopea is not as advanced as Photoshop, it is compatible with most major browsers and operating systems, is accessible without download or installation, is simple to use across most devices including smartphones and tablets and features an intuitive user interface making navigation effortless for beginners.
Photopea stands out among photo editing programs by supporting multiple file types, from PSD, AI, XCF and Sketch to JPG, PNG TIFF SVG GIF images. Furthermore, layer editing capabilities as well as multilingual support makes Photopea an attractive and reliable option for photographers.
Photopea's user interface resembles that of Photoshop and opens quickly, offering templates to help users get started quickly. This makes the software ideal for image-editing newcomers as its reduced learning curve enables them to produce professional-looking graphics in less time.
Photopea offers many useful features, but falls short when it comes to collaboration. The free account doesn't allow real-time collaboration while the premium plan only provides limited cloud storage and an edit history. Adobe Lightroom, on the other hand, offers team capabilities and integrates more fully with other Adobe apps.
It's easy to learn
Photopea is an ideal digital image editing solution for teachers and students without access to more expensive software programs like Photoshop. Running in your web browser without downloading, Photopea can be utilized remotely or online as well as across devices – providing greater flexibility for users while remaining straightforward to learn and operate. Note, however, that Photopea only functions while connected to the internet – therefore only functioning when users are online at all times.
Photopea's user interface resembles Adobe Photoshop, making transition easy for Adobe users. Furthermore, YouTube tutorial videos help teach how to use this version. Although there may be a small learning curve associated with Photopea's use, most functions offer keyboard shortcuts and the software is free and boasts an outstanding privacy policy.
Photopea is like most online programs in that it requires a reliable internet connection to function properly. While it is possible to work offline with Photopea, doing so may not save all of your changes and will lack features that would be available with desktop software like opening PSD templates and downloading images from URLs.
This program's features include an impressive assortment of tools for manipulating images, such as making selections with a magic wand that selects continuous areas of color, quick selection brushes that adhere to edges, freehand lasso and rectangular marquee tools, brightness contrast and saturation controls as well as freehand lasso and rectangular marquee tools. While not as advanced as more costly paid solutions, this software still can perform most photo manipulation tasks effectively.
The free version of the program is supported by advertisements; however, for a nominal subscription fee a paid version can remove advertisements from both sides of your screen so you can focus on your work and increase productivity.
4. Visme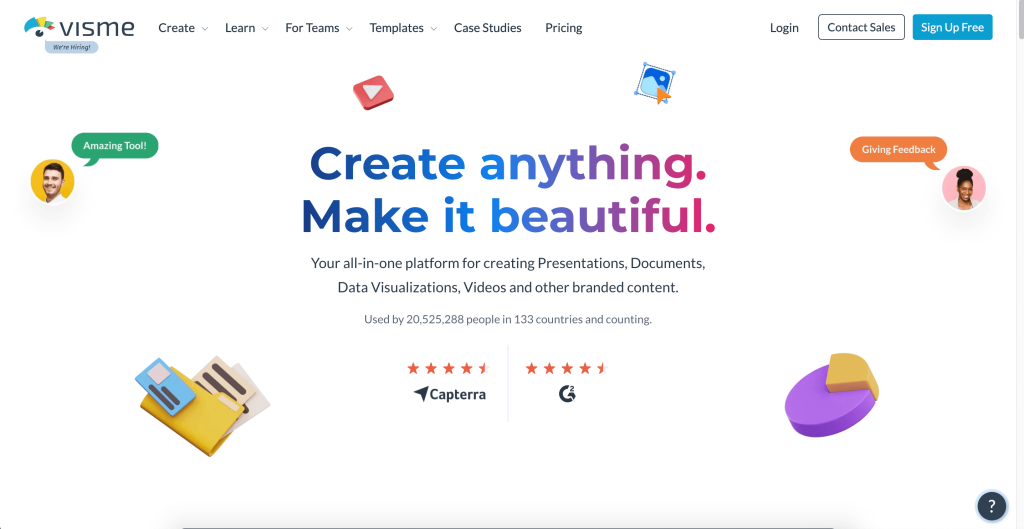 Visme empowers teams to quickly create visually captivating presentations for client pitches, interactive reports that present data and insights and stunning visuals for internal communications. Additionally, this tool gives teams access to fonts, colors and logos of brands for a cohesive look and feel.
This tool comes equipped with both free plans and premium options with dedicated support services.
Education
Visme is an accessible and flexible design tool available online that is free for personal use. Users can utilize its design capabilities to produce visual content such as presentations, documents, infographics, charts and printables that can be shared widely across industries from education to marketing and HR. Unfortunately, Visme does not feature its own content planner like Canva does which makes scheduling social media posts difficult.
Its intuitive user interface makes it simple for people with different levels of design experience to use it easily, with customizable templates available that can meet individual user needs. In addition, there is a collaborative feature which enables teams to work on projects together; especially useful in educational environments where teachers can use this feature to craft interactive and engaging presentations for their classes.
Visme has quickly become an invaluable educational tool, appreciated by educators who recognize its many advantages for engaging students during demonstrations and lectures. Visme has become an indispensable part of student achievement improvement; teachers use it in everything from interactive quizzes to educational presentations and lesson plans.
Keep students engaged is one of the biggest challenges educators face, particularly online learning environments like eLearning. Disengagement leads to learner fatigue which has been linked to lower performance and higher dropout rates; to counter this challenge educators must utilize effective pedagogies and various learning methods that foster active engagement from their students.
Create visually engaging and informative content is a fantastic way to engage learners and enhance classroom performance. Such material can help explain complex subjects in an easy to digest fashion for learners, increasing retention and engagement levels across platforms.
Teachers and other educators can utilize Visme for creating interactive infographics, presentations, and other forms of visual communication. With its versatility and ease of use, this tool makes an ideal addition to their visual communication toolbox. Visme's flexibility and affordability make it the ideal alternative to PowerPoint's often uninspiring platform – not to mention cost savings over alternatives such as Adobe Spark or Canva – meeting all kinds of industry requirements.
Non-profit organizations
The nonprofit sector is an invaluable asset to both the economy and society at large, serving many essential needs. According to the National Taxonomy of Exempt Entities Core Codes, nonprofits are divided into ten groups according to their purposes – arts, culture and humanities; education; environment and animals; health; human services; international foreign affairs; public, societal benefit; religious related; and social services. Nonprofits also play a service role by offering goods or services not available commercially as well as by upholding values and traditions while serving particular populations with voice; acting as catalysts of change or providing voice through these nonprofits.
Nonprofit organizations must educate their audiences about the work they are performing and how they can support it, including through infographics. A well-made infographic can demonstrate where donations go, who it helps and what resources your nonprofit needs to meet its goals while also building trust with donors.
Visme is a design software used by over 10.1 million users around the world to quickly create presentations, infographics and documents for business presentations, presentations and documents. With its intuitive user-interface and comprehensive tool kit, it stands out among competitors thanks to its ease of use as well as features for producing high-quality visual content creation.
Visme not only offers visual design tools, but also an intuitive platform for collaboration. Teams can share and edit files in real time while its customizable templates make creating professional-looking graphics a simple process even for novice users.
Melissa and her team can use Visme software to generate content that resonates with their target audience, such as infographics, charts and reports. Furthermore, animated illustrations and characters make the content even more engaging – helping promote events while informing people about clinical research.
Visme is a cloud-based software designed to facilitate collaboration among non-profits, agencies and marketers when creating visuals. It features an easy drag-and-drop editor which makes creating brand visuals fast and simple; users can embed infographics on websites or social media, download PDFs or high-resolution images and use custom fonts, color palettes and icons when designing them.
HR and​ learning
Human Resources and Learning are integral parts of any company. HR teams help employees develop their skills, gain knowledge and create a positive work culture which ultimately increases productivity, quality of work and competitive edge. HR also train, coach and mentor new hires while continuing education for existing staff – the training and development (T&D) process may include talent assessments, employee learning needs assessment strategies implementation plans coaching mentoring onboarding orientation business updates as well as materials to be used during T&D processes.
Visme's HR management templates enable businesses to create and distribute professional resources that support employee growth and development. This may include employee handbooks, training manuals, orientation day presentations or process infographics with branding that matches both their organization and employees – making it easier for all team members to comprehend new information quickly.
Training and development may take many forms, from workshops and webinars to e-learning courses, all aimed at meeting desired learning outcomes. For example, an employee who needs to synthesize information will require different approaches than someone requiring only memorizing and applying facts.
HR managers also bear responsibility for assessing their company's talent pool and identifying any areas for improvement, which is an extremely crucial task given that this can determine if current employees are up for new challenges and growth opportunities.
Visme's wide library of technical diagram templates makes creating engaging learning and development materials simple and enjoyable. Tech & software projects, in particular, can use flowcharts and network diagrams to break down complex technical information; SEO dashboard templates provide search engine optimization data in an attractive format; these visuals are ideal for conveying technical details clearly and concisely when working remotely; interactive elements like links, hover effects, embedded content can make presentations even more fun for audiences!
Personal projects
Personal projects are an ideal way to explore your interests and passions. From organizing your closet to more ambitious endeavors such as developing a social media platform, personal initiatives are a fantastic way to demonstrate commitment and dedication while discovering skills or personality traits you didn't realize existed!
Collaboration is one of the hallmarks of success when it comes to projects, and Visme software makes this easy by making file creation, editing and sharing straightforward. Furthermore, its built-in chat feature allows teams to communicate easily and resolve issues swiftly – an especially handy feature when working remotely.
As part of any Tech or Software project, creating engaging visuals for team meetings and presentations is paramount. Visme offers numerous templates suited for flowcharts, network diagrams and system architecture diagrams that you can customize with brand colors, fonts and logos to ensure consistency throughout the project. You can even create a Brand Kit to store all this information.
Visme's interactivity features can take your creations to the next level. From interactive maps and videos, to fillable forms and hotspots displaying additional information when hovering over certain parts of the canvas – Visme offers everything you need for creating interactive creations to take them beyond mere documentation, to improve user experiences for both yourself and your target audience.
An engineering or software project is often complex and time consuming to plan, so to save yourself time and effort you can use a tech project plan template from Visme Library to save both time and effort.
These templates include project objectives, timelines and financial projections as well as customizable fields featuring stylish icons, illustrations and shapes from their library that you can add your own information into.
These templates can also be easily downloaded in multiple formats including PDF and PNG for easy use.
5. Figma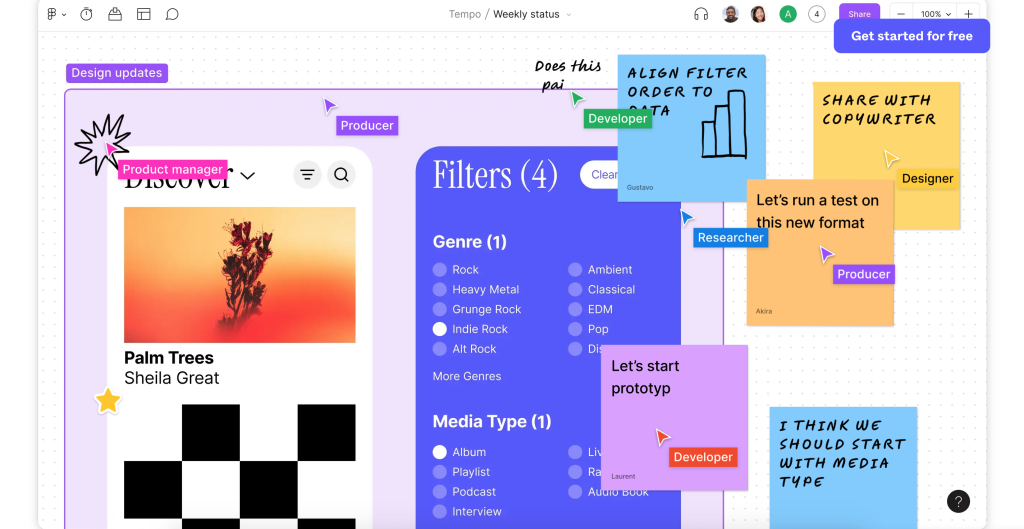 Figma provides an all-in-one design tool, from illustration to prototyping and sharing designs with developers.
With its browser-based platform, Adobe Edge makes collaboration easy for designers and developers. No software downloads or local files need to be managed – its universal nature also eliminates updates being sent back and forth between teams!
Designing
Figma is an all-in-one design tool that empowers designers to easily collaborate, design and share designs. With an easy interface that streamlines workflows and an extensive library of shared assets accessible by all team members, Figma allows designers to quickly produce prototypes using dynamic overlays created with dynamic controls; plus instant design edits!
Figma boasts a large community of designers who share their work openly on Figma, making it easier for other designers to replicate and modify these designs, shortening project launch times. Plus, as it is cloud-based software accessible from any device connected to the internet.
Figma stands out as an ideal tool for user interface (UI) designers due to its versatility in handling various file formats and can help create wireframes, visual mockups, and interactive prototypes – perfect for collaboration among teammates and stakeholders. Without it being cumbersome to communicate ideas through screenshots, team members can collaborate real-time while staying aware of changes being made – something difficult when communicating using screenshots alone.
This tool is also ideal for creating design systems, which is a reusable collection of elements used across various projects – this may include font styles, buttons, actions and page sections – plus even creating one with an icon set!
With Figma, it is easy to create wireframes of websites or applications quickly before transitioning into full-scale interactive prototypes for testing purposes. Furthermore, you can share this prototype with teammates and stakeholders so as to collect feedback more efficiently – it also supports drag-and-drop for creating responsive layouts!
If you are new to Figma, online tutorials and videos provide the knowledge needed for you to become proficient. Once registered, choose from among three plans; with the starter plan being ideal for new designers just starting out.
Prototyping
Figma is an intuitive vector-based design tool, accessible from any web browser. Highly scalable and offering an array of design, prototyping and collaboration tools, its software has gained widespread adoption by big names like Slack, Twitter, Dropbox and Walgreens – and its user-friendly interface makes collaboration on projects simple for teams.
Figma makes prototyping easy! Simply use its drag-and-drop function to easily add elements from various files. Furthermore, Figma supports many browsers and produces clickable prototypes which can be shared with anyone who has access to its link. Plus, full-screen mode can be activated by clicking its icon at the top-right corner.
Make a high-fidelity prototype to test your design with users and stakeholders, perform usability testing or simply get an understanding of how the final product will look and operate. Your level of fidelity depends on the project type and stage – for early stage projects consider creating low fidelity prototypes while animating versions can help conduct usability tests that ensure the end product will meet expectations.
As you develop a prototype, it is key to keep the file organized. One way of accomplishing this is using components and instances to ensure consistency and facilitate updates, while well-named layers, frames, pages and overlays allow for multiple forms without duplicating content.
Utilizing a UI kit in Figma is another excellent way to keep your designs organized. A UI kit allows you to organize components consistently across a design, speeding up development. Furthermore, using one can reduce duplicate work and make your code more readable while making prototypes more dynamic and interactive.
Collaboration
Adobe and Figma have come together to form a formidable combination of digital design capabilities. Their combined forces will enable an expansion in creativity on the web, advance product design and inspire global communities of creators, designers and developers. Their combined company will have an expansive addressable market and the power and flexibility necessary to help people become more creative and productive; their product offering spans 3D video vector imaging fonts fonts while Adobe provides cutting edge creative cloud services which provides them with unmatched power and flexibility to meet today's designer needs.
Figma is a browser-based user interface design tool, popular among designers and embraced by online communities alike. Designed to enable team collaboration on design projects without the need for downloads of special software, it enables designers to edit files live while keeping track of who changed what and version control changes as well as embed comments or feedback directly into projects.
Additionally, this software features numerous plugins that make customizing workflow easier for teams and streamlining design processes easier for large organizations or even individuals looking to optimize their design processes and work more efficiently. Therefore, it is an ideal choice for both individuals and large enterprises seeking to maximize efficiency during design processes.
Figma offers an impressive collection of tools for designing user interface animation and microinteractions, while its real-time collaboration and preview features enable teams to share designs faster – saving both time and money over time. Furthermore, it serves as an efficient means for gathering feedback from stakeholders or testing prototypes with users.
Figma provides remote and distributed teams with the tools necessary for seamless collaboration. Its real-time collaboration features enable teams to work on the same project simultaneously regardless of their location, while its easy communication features ensure smooth workflow. figma also includes an accurate version history which helps teams collaborate smoothly.
Figma makes collaboration easy by giving you control over who can access and structure design files. If working with multiple people, it may be wise to limit editing permissions to a small group; otherwise, give viewing privileges instead. This will help save costs while maintaining an organized file structure.
Version control
Figma provides version control for all projects, enabling users to easily keep an eye on changes and roll back to previous versions as needed. This tool is especially beneficial when working in real time teams as it helps designers make more informed design decisions while saving both time and avoiding potential reworking costs.
Figma provides 30 days of version history free with their free version, with paid plans offering unrestricted version history storage capacity. To view file history, open your project and choose Show Version History; this displays a timeline highlighting all versions with dates and timestamps of when each project version was made public as well as who its primary contributor was and any autosaved checkpoints which can allow users to quickly go back through previous iterations of designs.
Version control also simplifies handoff of files to developers, as they can view exactly where things stand at any given moment in time. This offers many advantages over using communication tools like Slack or Microsoft Teams which could cause team members to lose track of what changes have been made.
Because it's essential for designers to find a design system that complements the platform they use to develop prototypes, finding one that integrates well with Figma is important.
There are a number of plugins designed to aid designers in optimizing their workflow – one even integrates directly with its version control feature! These help avoid having multiple software programs open at the same time which could cause miscommunication or prevent opportunities for collaboration from emerging.
One way figma can facilitate collaboration is with its commenting features, which enable team members to communicate real-time. This way, everyone knows what each other are working on so it becomes easier for feedback to be provided more efficiently and collaboration to occur smoothly.
Figma stands out with its design system functionality, enabling designers to quickly and efficiently create reusable components and style guides that can be applied across projects. This feature can prove especially helpful for companies needing consistent yet scalable designs.
DaFont is one of the premier font sites, offering an expansive collection of fonts to meet any project need. Additionally, themed collections help make finding exactly the font you're after easier.
Decurion by Mehmet Reha Tugcu features thick slab serifs for maximum visual impact at large sizes, while Matey by Andreas Leonidou features geometric curves and condensed forms suitable for headlines or titles.
It has a huge collection of fonts
Finding the ideal font can be challenging when searching for one for a project, but with free fonts online available for trial before purchase there are many resources that make the search simpler and can save time and energy in finding something suitable. These websites offer vast collections of fonts which you can browse by themes and categories to quickly locate what will become the perfect match for you and your task.
These sites feature fonts for personal and commercial use; licensing information will be displayed when downloading any font. It is essential that you carefully read through and comply with its licensing details prior to using a font and contact the author if any questions arise.
Dafont offers an expansive collection of fonts to try before buying them, with over 77,000 available on this site and filtering through them can be challenging. One way to navigate Dafont effectively is to explore specific categories like cartoon or handwritten fonts; once you find one you like it will automatically be added to your system without creating an account first.
Fontesk provides a curated library of high-quality fonts, most of which are free for both personal and commercial use. Search by name or category with the interface being user friendly; preview each font with different text to get an idea of its effect.
Some fonts are ideal for bold and heavy projects, while others offer a more delicate feel. Round Sans Serif fonts work particularly well with logos and branding projects while geometric fonts provide striking headlines. One popular font designed by Tomaz Leskovec known as Reckoner features both geometric structures as well as condensed forms to easily legibility – this font has become one of the most widely used fonts today.
Lemon Milk, a naively charming geometric font, is another fan-favorite. Perfect for unique branding projects and poster or magazine layouts alike. Another terrific option is Wonderland, an ultramodern slab serif font with modern aesthetic.
It is easy to navigate
DaFont is an excellent website for downloading fonts to your computer, and one of the safest to use. Fonts uploaded here have been handpicked to ensure quality; thus minimizing risk. However, to stay safe it is a good practice to always scan downloaded files prior to installing them on your system.
Placeit is another popular website for downloading fonts, providing access to professionally designed fonts that you can use in anything from logo designs to Twitch emotes. In addition, Placeit provides various resources, such as graphics and videos that you can incorporate into your designs as part of their resource library. Here, users will also find simple to bold fonts available both personally and commercially – perfect for both personal and commercial projects!
It is safe
DaFont is one of the safest sites to download fonts from. Offering thousands of public domain or free license fonts from designers/authors, these fonts may be used however you please as long as proper attribution is given – making this site an ideal place for discovering new fonts to test out in designs.
Though most fonts found here are legal, there is always the chance that some might contain viruses. While this is unlikely, it is best to scan downloaded files with anti-virus software before opening or using them. Furthermore, we advise keeping downloaded fonts in a separate folder on your computer until needed.
Once you've found a font you like, right click and select "Open". This will open a preview window so you can check how the font looks before installing it on your computer. When ready, click on "Install" at the top of this window to complete this step and your new font will be part of it!
If you're searching for something different in terms of fonts, try Placeit. This site boasts an enormous library of professionally designed fonts that can be used in everything from logos and Twitch emotes to clothing ads and advertisements. Plus, Placeit provides templates to get you started quickly on your design projects, while customizing fonts by selecting your style, size, color preference – perfect if your font project requires customization!
It is free
Dafont stands out from its competition as being free for download, trial, and use. As one of the most widely-used font-listing websites around, graphic designers often turn to it when searching for fonts that can help their designs. You'll easily be able to locate what you need using their search bar or filters.
Once you've selected your font of choice, click "Download." This will download a zip folder with files necessary for installing it on your computer or, on Macs, into Font Book for easier use across apps. Doing this allows for seamless designs.
Once you've downloaded a font, double-clicking will launch it for viewing. A window will open displaying its preview, enabling you to see how it looks across different sizes and styles before making your decision on whether it suits your project; otherwise you can change or delete it as appropriate.
Before downloading and using any new font, check to make sure it is legal to do so for your specific purposes. Most fonts are free for personal use but some require licensing for commercial usage – before downloading a font from its page, always check its license agreement so as to be certain you won't violate any intellectual property.
FontBundles website provides another helpful way of searching fonts: this library features over 1,000 fonts that you can search by categories like display, seasonal and script fonts – and is user-friendly too! Plus there is an impressive selection available both desktop and mobile use!
As a designer, you understand the significance of selecting an ideal font for your design project. Font selection sets the mood and can make or break a project; finding these best ones without professional assistance can be time and energy intensive. With this tool at your fingertips, finding your ideal fonts should no longer be an obstacle!
7. Prezi
If your business frequently makes public presentations, Prezi can add an eye-catching and innovative twist. Unlike PowerPoint, presentations with Prezi are visually captivating to audiences and hold their interest longer.
Prezi's unique presentation style allows users to zoom in and out, traverse the presentation, create links between sections of it and link between sections – providing a non-linear flow of content which is easy for readers to follow.
Educators
Teachers often find slideshow presentations a tiresome and monotonous way of communicating information in classrooms, and Prezi can bring excitement, creativity and engagement back into presentations by adding 3D zooming effects that grab student attention instantly while helping students absorb larger volumes of visual data at once. Plus its ability to import PDF and DOC files makes this software perfect for teaching how to present in a professional manner.
Prezi provides students with an intuitive user interface that makes creating and presenting presentations effortless. With built-in hints and templates designed specifically to reduce learning curve, Prezi makes presenting easy. Free users are limited to five projects while paid plans start from $5/month which provide unlimited projects plus PowerPoint import, video downloads, desktop app access and offline access.
Teachers can utilize this tool to create lesson presentations that students can view at home either independently or during virtual class meetings. It's also an effective way for helping them present research projects more creatively and engagingly.
Nonprofit organizations can utilize this tool to showcase their humanitarian work or assist potential volunteers in understanding how the organization operates. Templates can be customized with images, maps and multimedia; while zooming features allow you to highlight important facts and figures. Finally, virtual poster boards serve as great visual displays for complex ideas that might otherwise require extensive explanation.
Prezi is accessible both online and offline and compatible with most browsers; however, for optimal performance it is best to have fast internet connectivity. Anyone can share links that can then be viewed on any device; collaboration among multiple users is easy since multiple people can view and edit simultaneously; in addition, presentations created using Prezi can give others commenting access so they can leave post-it notes anywhere on the canvas canvas.
Business
Prezi is a dynamic alternative to PowerPoint that can increase productivity at work by encouraging collaboration. Its dynamic designs create an engaging user experience over static slides, helping present ideas more captivatingly. Prezi also offers business templates which can be personalized according to any presentation topic.
Prezi has introduced a version of its cloud-based platform specifically tailored for business use: Prezi Business. Providing team collaboration capabilities, detailed analytics and live remote presentations; Prezi has also partnered with Slack as their communication tool of choice.
Prezi's new version allows users to communicate ideas directly within the platform without email or instant messaging, making it perfect for collaborative work and project management. Teams can also collaborate by sorting, selecting and linking presentations together from one central location; additionally users can view and edit their prezis from anywhere regardless of whether they are signed-in.
Prezi can make any presentation interactive and effective, whether that means pitching ideas to investors or pitching your plans to clients. With its user-friendly platform and video/image upload capabilities, Prezi makes for a fantastic addition to any presentation, while its zooming functionality and 3D model add depth and interest to presentations.
This platform can be downloaded on both Mac and Windows computers for easy navigation and with numerous preloaded templates that make it suitable for beginners. Additional features include file storage, revision history, chat room functionality and search function – though no external plugins may be added due to a per-seat license structure which could become more costly for smaller businesses; also missing from its offering is live presentations from laptop or desktop computers.
Marketing
Prezi is an engaging presentation software platform ideal for businesses that wish to make their presentations more exciting, engaging and creative. The program features templates designed for any topic or purpose imaginable and offers 3D zooming capabilities that allow viewers to explore every point at the right moment in detail.
Prezi is also ideal for creating engaging timelines that illustrate historical references and chronological data easily, thanks to its visual storytelling abilities and collaborative features that enable multiple users to collaborate on editing the same prezi simultaneously.
As such, this makes it the ideal tool for business teams working on presentations and proposals together. It can streamline communication, increase productivity, improve project efficiency, help develop cohesive brand messaging and support growth – with its user-friendly interface making this task effortless and quick!
Prezi is an engaging visuals-first, non-linear layout presentation tool with unparalleled power to transform both teaching and marketing efforts. Teachers can utilize Prezi to introduce students to new subjects by creating engaging maps of them; marketing professionals can leverage Prezi to present products and services of their company in an attractive manner.
As well, the program can be utilized on-the-go for business professionals who frequently travel or attend meetings, offering access to presentations regardless of whether they're using a laptop or desktop computer. With its mobile app, this feature makes the program highly portable.
Prezi makes signing up simple with just an email and name needed for registration, and then once you're inside your account you can start building presentations quickly with just a few clicks. Your home page showcases all your options including slideshow-style presentations with templates as well as upload videos or images directly. It is also simple to share Prezi with others by giving public or hidden access while giving editing access directly through email, instant messaging apps or tweets.
Events
Prezi provides a more engaging way of presenting that keeps audiences interested and transmits information clearly and easily. Its visual elements make Prezi an appealing alternative to boring linear slides commonly seen during presentations.
Software such as Presentr can be utilized in numerous ways, ranging from basic presentation tools to interactive learning platforms. A nonprofit could utilize Presentr as an interactive training presentation tool for their volunteers on how their organization operates – this would spread word of their services further while drawing in more people who may help achieve their goals.
Prezi can also help non-profits share important meetings with their stakeholders – be they company meetings, team project meetings or investor gatherings. Participants will find it easier to follow what's being discussed, while organizations can improve overall effectiveness by focusing on what truly matters – driving business results.
Studies show that meetings tend to be more successful when structured effectively, with an agenda, clear goals and objectives, and an organized structure for discussion. Prezi is an ideal platform for creating these types of presentations because everyone can easily contribute while viewing a full version at once.
Prezi can also be used for video conference presentations. With its integrated feature Prezi Video, users can upload their videos into the software and create screencast-style videos of their presentations. This can be particularly helpful when speaking in front of large audiences as the presenter can easily identify who's sitting in their audience and speak directly to them without staring down at a screencast-style video of their presentation.
Prezi presentations during virtual meetings allow users to add video comments and GIF reactions that spark more conversation and make meetings feel more personal, while increasing audience engagement by keeping remote employees or colleagues involved in the meeting. This feature provides another layer of communication and engagement.
8. Freepik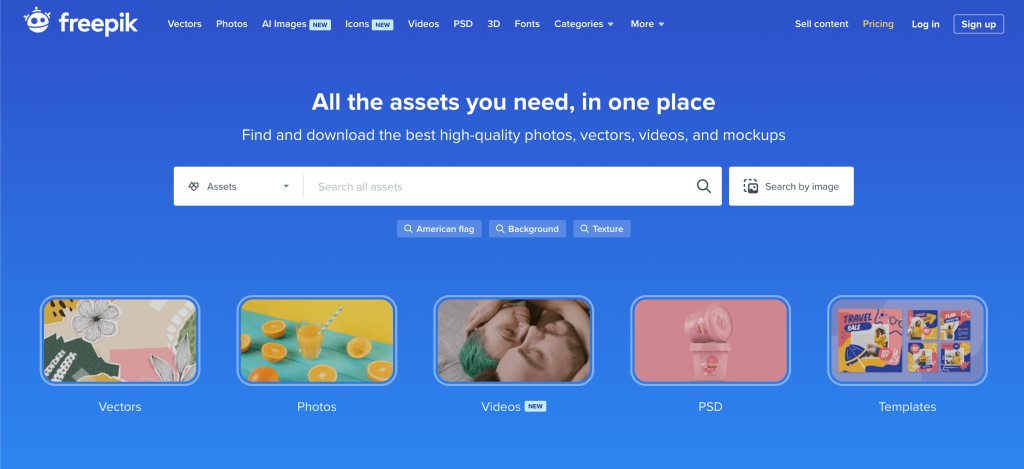 Freepik is an online platform which enables users to search for high-quality photos, vector images and PSD files as well as take advantage of a free editor.
This site offers an intuitive categorization system, grouping its offerings by icons, stock photos, and vectors so it is simple to find what you are searching for.
Use these resources for both commercial and personal projects; just remember to give proper credit where due.
Freepik is a platform for designers
Freepik is an online platform offering millions of free graphic resources for people across the world to utilize. Their designers understand that comprehension can best be enhanced when visual depictions of information are present. As Freepik designers understand, visual representations help the brain retain and process information more rapidly than written material, thus offering templates designed to facilitate comprehension and improve memory retention.
These templates come categorized by different themes, and include abstract backgrounds, business cards, banners, mockups, watercolour images, logos and frame flyers among many more. All these designs can be downloaded with high quality for personal or commercial use and editing is simple!
Freepik stands out from similar websites by offering social interactivity between users and artists. You can like specific designs and post comments about them; follow an artist if they interest you; as well as search the platform for keywords related to designs you like or follow them!
Although Freepik provides an impressive collection of creative assets, it falls short of competitors such as Shutterstock, Adobe Stock and Envato Elements in terms of library size, features offered, software integration seamlessness and pricing plans tailored specifically for user types – not to mention more diverse vector collections for niche needs.
Freepik remains an invaluable resource for designers and content creators, regularly updating with creative assets that fit perfectly for any project. Plus, its categorizing system and intuitive navigation make finding exactly what you're searching for easy.
Freepik may not be suitable for designers seeking to mass sell their designs. To prevent legal complications, you should remember that graphics downloaded from Freepik cannot be used as the main elements in your designs; rather, they should serve only as secondary embellishments.
Also keep in mind that Freepik licenses require attribution, which means crediting both the author and original source. Furthermore, premium membership provides access to royalty-free files for use in any commercial project.
It offers a huge collection of vectors
Vector files are an image format that can be scaled without losing quality, making them perfect for scaling-based design projects such as logos, icons, illustrations and photos. Vectors provide crisp and detailed graphics when used correctly; many websites offer free vectors for designers' use such as Wow Patterns, VectorStock and 101 Free Downloads which boast extensive collections including bold illustration vectors as well as high-resolution photos.
VectorStock is an online stock library offering nearly one million free vectors that is constantly expanding, so sign up for a free account to gain access. Once signed up, you can manage collections and organize files using folders. Plus there's even a search function which makes locating what you need much simpler!
Vecteezy provides access to millions of vector images uploaded by users all around the world, divided into hundreds of categories and with access to popular and trending vectors; you can even create an account and get personalized feeds of only the best vectors!
Vecteezy provides many useful services, but be aware that its usage requires attribution if you do not opt for the pro plan. Furthermore, Vecteezy requires five seconds before downloading vectors as well as watching an advertisement; this may prove inconvenient if working to meet a tight deadline.
Pngtree website is an invaluable source for free vectors, clipart, PSDs and 3D images. Their extensive database boasts more than 30 million users from 150+ countries; their selection of free vectors is vast; with easy filtering options that help find exactly what you need based on size, style and color filters.
It offers a free editor
Freepik provides users with access to an abundance of images and designs suitable for use in any design project, as well as tools that enable users to edit images and add text or graphics – features which prove invaluable when making business cards, flyers and posters. In addition, their website contains tips and tutorials to teach people how to navigate this platform effectively.
Freepik currently boasts more than 10 million downloads to date and its content is freely accessible, although users must attribute its authors. Furthermore, Freepik offers a premium subscription option which opens exclusive content for users willing to pay $8.25 monthly; similar to microstock and stock photo sites but with additional contributor benefits.
Content on this platform comes from both in-house designers and freelancers, and its data-driven nature enables it to understand consumer demand through download statistics. Furthermore, a team of analysts offers strategic support and technology development.
As part of becoming a contributor, you must submit three assets – photos, vectors and PSD files. Each must meet specific criteria before being accepted: the preview image must be in JPG format while editable version must use EPS files; file must also have specific name that corresponds with preview image's name; name must match preview image naming convention
Freepik's content is continually refreshed with fresh resources being uploaded daily, making the website an indispensable resource for creative professionals. Its expansive collection, high quality standards, and user-friendly interface makes Freepik an excellent choice for both personal and commercial projects alike.
Freepik editor allows you to quickly edit photos and remove backgrounds with just a few mouse clicks. While the free version offers limited editing features, upgrades provide access to more advanced ones allowing you to quickly make designs look professional online quickly and get them published online.
9. Behance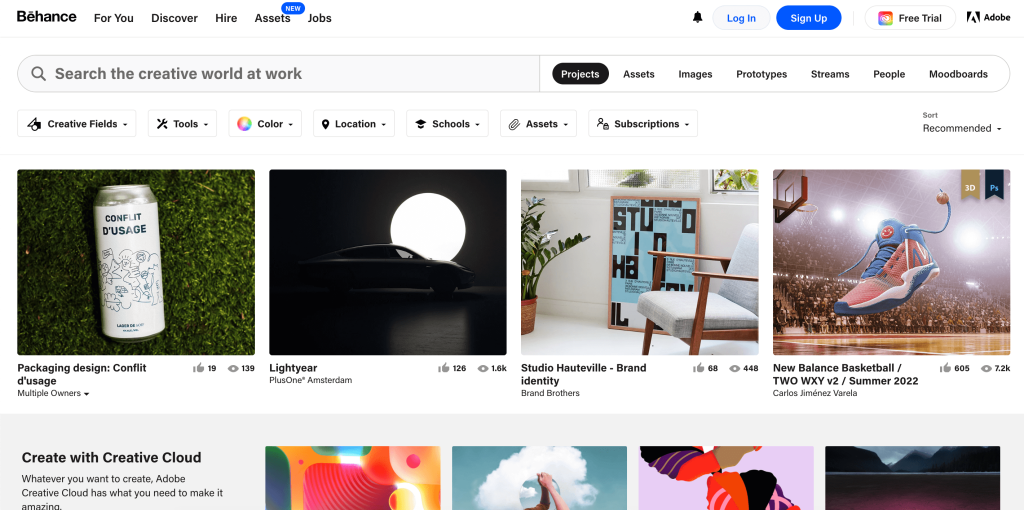 behance is an online network designed for creative professionals in the creative fields that offers valuable feedback on your work. You can share digital portfolios of recent projects as well as discover new inspiration. Though behance is free, an Adobe account is required in order to access its services.
It's free
Behance is a free website designed to give designers an opportunity to showcase their work and network with other creative professionals. Users can create profiles and exhibit their works via projects; its search tool makes finding projects easy; users can comment or like projects as well as connect with fellow designers.
Users can create an account on Behance by providing either their email address or social media login details, then add demographic data before starting work on Projects. Uploads to Behance can include any format with URL sharing capabilities for sharing purposes; each has an appreciation counter that shows how many viewers and appreciators have seen the artwork; these projects may then be featured either as featured page projects or within curated galleries.
Behance is not only an amazing platform to showcase creative work, but it's also an incredible resource for artists looking for work. Much like classified ads used to work, employers post jobs for job seekers to apply to and users can send potential clients a link directly to their portfolio for easier contact with artists.
Behance is an accessible and free resource that's available to any creative professional, offering access to profiles they follow as well as updates regarding any projects uploaded, views, appreciation or addition to Moodboards that appear in their For You feed – Behance's home screen for signed-in creatives.
As a professional designer, it's crucial that your portfolio remains current with your latest projects. Behance is an ideal way of doing just this with its user-friendly interface that makes sharing work with peers and potential clients simple and straightforward.
Behance stands out among creative professionals as being free and user-friendly, earning it widespread praise from reviewers who often give it five stars for its ease of use and usefulness. Some reviewers gave Behance only one star; most praised its simplicity and usefulness instead.
It's easy to use
Adobe's behance provides creative professionals a powerful yet user-friendly platform to showcase their work and connect with other artists. Users can register using either email or social media login, create an account and showcase their portfolio, while adding previous work experiences, links and pictures of previous projects, plus set up live stream sessions – providing designers an avenue for meeting each other and finding inspiration for new designs.
Behance is similar to LinkedIn in that it enables creators from all disciplines to connect and showcase their work, while it can also help freelancers find employment as it acts as a network that connects freelancers with employers. While not as comprehensive as other freelancing platforms, Behance provides creators an ideal space for finding artistic jobs as well as meeting other creatives.
Behance allows you to easily create an online portfolio of your design work. Your folio can then be linked back to your website and social networks for increased exposure, while receiving feedback from other users on what they think of your designs – make sure that any questions are responded to politely while acknowledging other people's work as well!
As part of your Behance profile creation process, select only your best work for your Portfolio page. This will attract potential clients and give them an accurate representation of the quality of your work. Incorporate an overall theme throughout this section. Additionally, don't add too many images or videos; keep it elegant.
Behance's design is user-friendly, making navigation straightforward. You can link directly to other websites and social media accounts from within Behance; upload projects in any file format including video and audio; as well as make your Portfolio either public or private.
Follow other Behance users and make sure to comment on their work; people are curious to know the processes that went into making projects – be it time-lapse videos or high-quality GIFs. Behance can provide an effective platform to showcase these processes.
It's a great place to get feedback
Behance is an online platform where artists and creative professionals can showcase their work and network with other creatives. Designers can use Behance to get feedback on their designs as well as to network with potential clients. Artists can easily create their profiles in just a few steps using either their email address, social media login information, Adobe ID number or Adobe ID login details and begin uploading work and building an online portfolio; additionally they can include bio information as well as a link back to their website or provide further links for clients to connect with.
Behance offers users multiple galleries where they can showcase their projects, carefully curated by Behance's team of curators. Behance curators try to highlight work that highlights its best qualities while taking into account views and appreciation clicks received for consideration; however, getting featured is no simple task as Behance only selects 1 per cent of all submitted projects daily for its galleries!
As a photographer, it's vital that your Behance portfolio stays current. Doing so can not only increase visibility but also build business credibility by including various images with contextual information about them such as process shots or client reviews. To do this successfully, include images that demonstrate these features by showing process shots or providing testimonials from clients.
Behance provides another advantage by enabling users to sync their portfolio to Adobe Creative Cloud accounts, making it easier for employers to discover your work and speeding up the hiring process. In addition, Behance allows you to form teams and manage its members; Team Members may simply view and comment on projects while Team Admins have access to add or modify team projects and team information – you can invite members when setting up the team, or any time afterwards.
Behance is an ideal platform for photographers, illustrators, and video editors. Photographers can upload still images and videos while illustrators can showcase both digital and physical portfolios on Behance. Video editors can use Behance to showcase their skillset when applying for jobs.
It's a great place to find jobs
Behance is an online design network that provides designers a platform to showcase and connect with other creatives across industries. Free to join, Behance features creative projects from across industries. Furthermore, Behance features an interactive job board connecting employers with skilled freelance professionals; making it a popular source for finding creative work opportunities as well as becoming part of many designers' portfolios.
G2 Artist Reviews gives Behance a 4.5 star rating and many professional artists use it to showcase their work. Reviewers appreciate its ease of use, multiple project uploading capability and one artist even reported being helped to secure employment through it! To take full advantage of Behance and boost income it is vitally important that users remain active on this platform so as to increase chances of having their works featured – doing so can attract clients while increasing income opportunities.
Behance's online community can help you expand your fanbase and find collaborators, as well as gain inspiration from other creatives' work and learn new ideas from others that may lead to breakthrough designs of your own. Furthermore, connecting with creatives from all around the globe provides a unique way of networking without feeling like competition with them is taking place.
As a designer, you should constantly seek ways to perfect your craft. One great way of doing so is through collaborations with other designers; whether experienced or just beginning, collaboration provides opportunities to learn from each other's processes and develop something truly exceptional that stands out among competitors.
Behance's curated galleries provide an invaluable way to gain recognition by potential clients. These collections showcase some of the most inspiring work created by designers and artists worldwide, so it's vitally important that your portfolio stays up-to-date and that you remain active on Behance in order to have it included as part of one.
Behance is a division of Adobe that helps creative professionals discover and showcase their work online. It features a job board for full-time, freelance, internship positions. Furthermore, Behance provides learning resources and training programs as well as flexible work options like remote working options or work from home jobs for creative professionals.
10. Pixlr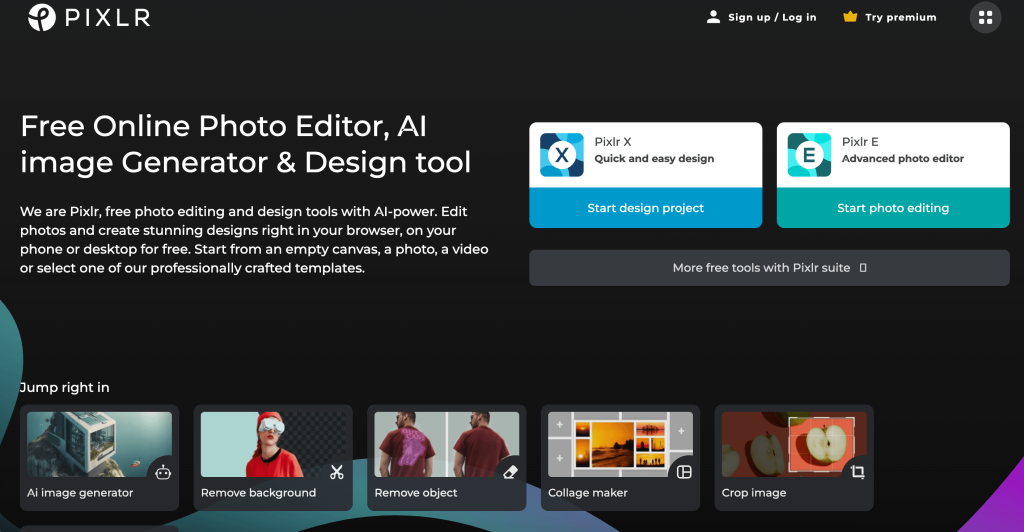 Pixlr is an image editing suite that gives users access to a comprehensive set of tools and options, and mobile phone connectivity makes editing images possible wherever users may be.
With its user-friendly interface and quick fix function for automatic editing images, Photomatix Pro is ideal for beginner photographers and designers.
It offers a variety of tools
Pixlr is a free online photo editor with many editing and retouching options for images, similar to Photoshop in terms of its user interface and feature set. There is a range of filters, layers and tools that provide advanced image manipulation techniques as well as a history feature to scroll back through actions taken and undo or redo them at their leisure if necessary – perfect for beginners learning photo editing who wish to experiment with various tools available to them.
Pixlr is designed for ease of use and convenience, only requiring Flash plugin to function, making it accessible from any web-enabled device – including mobile phones with web browsers – making it particularly ideal for individuals without access or familiarity with desktop software such as computers or software on a desktop. Furthermore, Pixlr also comes in an app form for Apple and Android smartphones.
Pixlr stands out from other image editing software by providing an intuitive and user-friendly experience. It features an excellent navigator that shows where your mouse cursor is on the canvas, an adjustable slider to change zoom levels, as well as shortcut keys for frequently used tasks. Furthermore, this app comes equipped with automatic color and brightness correction tools which adjust images automatically based on their surrounding environments, along with a crop feature to reframe or remove parts of an image.
Pixlr App features the Heal tool, which removes objects from an image by using its properties bar at the top. This tool can help remove blemishes and scratches from photographs as well as correct their composition with photos. Specifically useful when editing portrait photos to remove unwanted elements. You can adjust brush size, shape and hardness settings until achieving your desired result.
Pixlr's Layer feature makes creating and combining image layers easy. Add text, photos, or graphics and adjust them as necessary until they fit your picture – or move and stack them for desired effects! Unlike with other image-editing software programs, however, your changes don't have to be saved separately for each layer – saving all changes at once is no longer necessary!
Pixlr offers an integrated search engine that makes it easy to quickly find specific keywords or similar images, providing invaluable assistance when looking for images for projects or simply seeking inspiration.
It is easy to use
Pixlr is an intuitive online photo editing software tool with various tools designed to assist users in editing and enhancing photos.
As it runs in your web browser, no download is required – which also makes it compatible with most devices – while also being easy to use and taking up little memory space on your computer; plus its lightweight nature does not necessitate high-speed internet speeds for best performance.
This program allows users to either create new images from scratch, upload existing ones from their computer, or both simultaneously. Furthermore, it offers a range of filters and overlays that add fun touches to photos – such as bokeh discs and starry skies – while red-eye removal features allow photographers to remove red-eye from photos taken using it. In addition, its text add-on feature offers different font sizes and styles so users can add text directly onto images for greater effect.
Pixlr may not provide as comprehensive of an editing experience as Photoshop or Lightroom, but it remains an indispensable tool. Pixlr offers quick fixes that enable users to quickly adjust temperature, saturation, hue, brightness, contrast and temperature all with one tap; additionally it can reduce noise and blemishes from images.
Another useful feature is its "auto-fix" function, which can easily correct common image defects to make them look professional. For instance, it can remove red-eye from portraits or fix glare in landscape photos; correct lens distortion; straighten crooked pictures.
This tool offers an efficient means of sharing and saving edited photos. It supports many popular file formats, such as JPEG and PNG for web-based apps and social media, while PDF documents may also be exported for printing.
The free version of the program offers features that should satisfy most users, with upgrade plans providing additional tools. Paid versions are ad-free and offer more stickers, overlays and borders; additionally classic photo-editing tools such as the lasso and brush features can help users to create posters or banners more efficiently.
It is free
Pixlr is an online photo editing software that allows users to edit photos without downloading or installing anything, accessible from any web browser and mobile device. It offers similar tools and features found in Photoshop for editing photos from anywhere.
Pixlr offers both a free version for basic photo editing and a premium plan with advanced features. The latter boasts additional image effects, more robust brushes and overlays selection and other useful tools – it is recommended for photographers seeking an all-in-one photo editing tool and supports many file formats.
This program offers a range of photo editing functions, such as cropping and resizing, filtering, color correction (reducing red eye), sharpening (whitening, sharpening), sharpening ( whitening), sharpening and contrast adjustment. Furthermore, its Lazer feature enables users to selectively change certain parts of an image based on color; saved images may be saved as either JPEG, PNG, WEBP or PXD formats.
Pixlr offers another unique capability in its text editing tool: its ability to add text to photos. This feature makes Pixlr an invaluable asset when creating invitation cards, posters and promotional materials – as well as being easily rotated or changed font size. To add text to any photo simply click the 'A' icon from Pixlr's toolbar running along the left side of your screen – this will open a pop-up window where you can type your desired text before clicking where on your picture you would like it appear on.
Pixlr is an image-editing program widely favored by users looking for lightweight alternatives, making it attractive to designers and photographers just starting out. Being completely free to use with no sign up requirements makes Pixlr even more desirable; its simplicity draws users in.
Unfortunately, however, Pixlr does have some drawbacks such as limited text-editing options and advertisements present; in addition, Pixlr does not support RAW files, meaning you may require alternative software if working with these files is your goal.
It is compatible
Pixlr is an image editing program compatible with various platforms that provides users with access to an extensive selection of tools and features for image manipulation, as well as shortcuts for those frequently utilized options. The interface is user-friendly, making Pixlr an ideal option for photographers and designers working on graphics for social media posts, ads, logos or business cards.
Pixlr stands apart from most photo editing software by being free for download, with no registration or fees necessary for use. However, an account is necessary if you wish to save work and access library. Furthermore, its Flash design ensures it will run on most computers that support Adobe's Flash plugin.
This program makes performing basic image edits easy. With its quick-fix feature, which automatically edits and touches up photos for you, as well as customizable colors, exposure levels and borders options – it allows you to customize each of them individually for optimal results. Furthermore, its layers view allows you to keep an eye on edits made and overlays can add creative flare.
User-friendly dashboard with movable panels to accommodate editing tools and layer previews, history tool for scrolling through actions to undo or redo, optimized mobile device compatibility and great performance on older computers are hallmarks of success for any program.
Pixlr provides more than just basic editing tools; it also offers filters and textures. Users can resize images easily while adding text – text color can even be changed easily! – for added personalization when creating and sharing pictures.
Pixlr's main downsides include only supporting JPEG files, which may limit professional photographers who need to work with RAW or TIFF images. Furthermore, there is only limited support for vector shapes and text features compared with some competitors like Adobe Photoshop.
Conclusion
In today's digital age, the power of visual communication is undeniable, and graphic design plays a pivotal role in capturing attention and conveying messages effectively. Throughout this guide, we have explored the top 10 graphic design software tools that empower your creative vision, offering a world of possibilities for bringing your ideas to life.
By leveraging these powerful software tools, you have the opportunity to unlock your creative potential and produce stunning designs that captivate audiences. Whether you are a professional designer, a budding artist, or someone with a passion for visual expression, these software tools offer intuitive interfaces, robust features, and extensive resources to support your creative journey.
Remember that mastering graphic design is a continuous learning process. Embrace experimentation, explore new techniques, and stay updated with the latest design trends. Take advantage of the vast communities and resources available around these software tools to expand your knowledge and refine your skills.
As you embark on your creative endeavors, let your imagination soar and push the boundaries of design. Whether you're designing logos, websites, marketing materials, or digital art, the top 10 graphic design software tools discussed in this guide provide you with the necessary tools and capabilities to create visually stunning and impactful work.
So, embrace the power of these software tools, trust your creative instincts, and let your ideas flourish. Empower your creative vision with the top 10 graphic design software tools and make your mark in the world of design. Unleash your creativity, captivate audiences, and bring your vision to life with confidence and conviction. The possibilities are limitless, and your creative journey awaits.